Fishing on the Putorana Plateau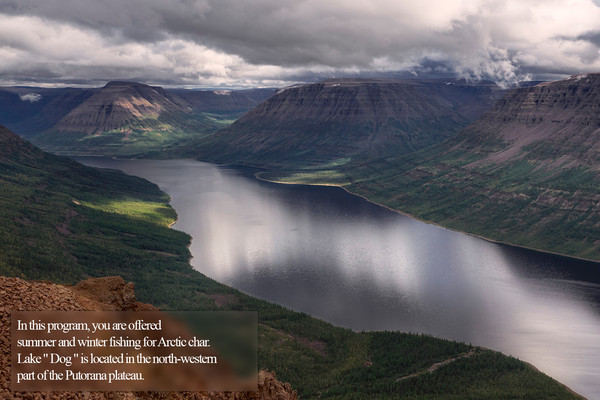 + 63
Putorana is the northernmost and one of the oldest plateaus in the world of volcanic origin. More than 252 million years ago, this place was a huge volcano, according to scientists — the largest on Earth. The lava it spewed for two million years formed the plateau's topography, basalt mountains formed by lava flows are found throughout the Central Siberian Plateau. But the Putorana Plateau is the only large area entirely composed of basalt. In 2003, the Putorana Plateau was included in the UNESCO World Heritage List. What's interesting here: The tundra is huge, silent mountains, deep canyons, and almost at every step — waterfalls, streams and rivers. Waterfalls. There are thousands of them on the plateau, more than anywhere else on Earth. And at the same time, their exact number is unknown, moreover, they are not described or studied. So you have every chance to find a new waterfall and call it by your name. In addition, many local waterfalls have a well-deserved prefix " the most»: * Talnikovy-the highest in Eurasia (482 m) * Kandinsky-the highest waterfall in Russia (108 m) * Bolshoy Kureysky-the most powerful waterfall in Russia. * Oransky-the widest waterfall in Russia (and the most picturesque). Lakes. In the lakes of Putorana, salmon is perfectly caught. There are grayling, whitefish, char, Valek, taimen, lenok-you can't leave without a catch. In total, there are more than 25,000 lakes. The largest and deepest is Lake Khantai. The most beautiful lake is considered Kutaramakan. Among other popular lakes: Lama, glubokoe, Dupkun, Ayan, dog, keta. By the way, it is on Putoran that the geographical center of Russia is located-Lake Vivi.
Availability
No trip match your search criteria
You can have a look at some suggestions below or try a different search
Terms
Trip Includes
Invitation to enter Norilsk for foreign citizens
Tips
If you want, the instructor will help you.
Pick-up service
The tour price includes full logistics support, except for air travel.
Meals
three meals a day, light snacks tea coffee during fishing.
Laundry
Housekeeping
Guiding
Float plane service
We will provide you with all the gear for a successful fishing trip
Fishing license
Transportation
Beverages
alcohol is not included in the price of the tour
---
Fishing
Species
Arctic Char
Grayling
Whitefish (Lake)
Taimen
---
Types of Fishing
Backcountry fishing
Inshore fishing
Lake fishing
River fishing
---
Fishing Techniques
Bow fishing
Deep sea fishing
Fly fishing
Heavy tackle
Ice fishing
Light tackle
Spearfishing
Spinning
Bottom fishing
Trolling
---
Gear
Bait
Boat
Downriggers
Fish finder
Fishing chair
Fishing Pole
Lure
Rod holders
Rods & Reels
Spears
Tackle box
Trolling motor
Boat Specs
Hovercraft "Arktika 1D8 Taimyr "
The Arktika-1D8 Taimyr hovercraft is a unique individual development designed for operation in extreme conditions of the Far North, at any time of the year at temperatures from +41°C to -56°C. A speci...
Motor boat " Kazanka-5M»
The boat "Kazanka" is now one of the most popular motor boats in Russia. Released at the time of such small vessels was very much and it has several modifications that have common features. ""Kazanka"...
Inflatable boats of different types
There are rowing inflatable boats and with a motor.
Eurocopter AS-350 B3 and Bo-105P
On the Putorana plateau there are more than 2500 lakes, many of them are rich in trophy fish, if desired, you can arrange a cast in good lakes for excellent fishing. Payment during the flight the cost...
In the winter Yamaha Venture Multi Purpose
The main transport for trips is the Arktika 1d8 Taimyr hovercraft, but if you wish, we can provide you with Yamaha Venture multi-purpose snowmobiles for hiking. Venture Multi Purpose - an unpretentio...
Accommodation
Base on the Putorana Plateau (Dog Lake)
Distance to fishing area:
50 метров
Operator
Manager
Maxim Ulyanov
Since 2009 year
Organization of fishing on the Putorana plateau (the Plateau is included in the UNESCO world heritage list). Unique beauty and fishing spots on the Taimyr Peninsula.
Maxim Ulyanov
Manager
Since 2009 year
How to get there
Krasnoyarsk Krai, Russia
At the Norilsk airport, you will be met by a representative of the company and escorted to the main base on the Norilsk River. After lunch, a safety briefing will take place at the base, then boarding the Arktika 1d8 Taimyr hovercraft and departure to the Putorana Plateau base (travel time 3.5-4 hours).
Book with 50% deposit
Once the lodge confirms your trip, your credit card will be charged with a 50% deposit to guarantee the reservation.
Pay remaining balance to the manager
The remaining balance will be paid directly to the lodge on the trip date. The following payment methods are available: