Orange River Yellowfish Safari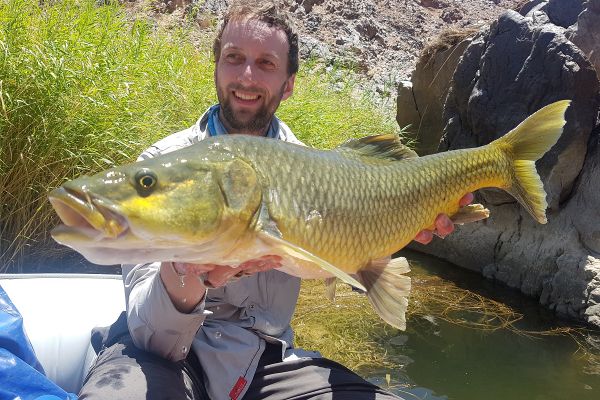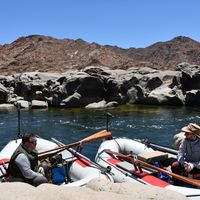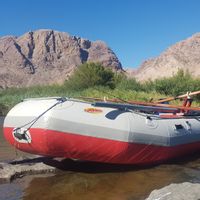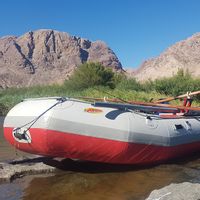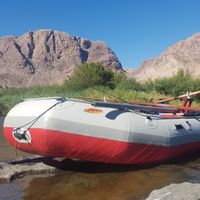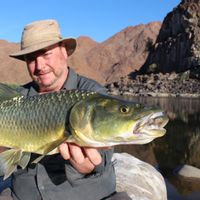 + 14
An Action Packed Fishing Adventure! From rapids filled with huge Smallmouth Yellows to deep pools ensuring a real chance at a trophy Largemouth Yellow or as we like to call them, The Orange River Dragons. We drift-fish and move downstream in spacious inflatable boats, designed by ourselves to provide day long fishing in comfort. We will provide three meals a day. Campfire cooking, as good as it gets! Your guides have fished competitively at international levels and know this area of the Orange river extremely well. Simply stated, you cannot be in better hands! Day 1: Arrival at Plato Lodge from 14:00. Book in. On registration you will be issued with Hunter Fisher dry bags to safely store your personal belongings. After a great Northern Cape dinner and a few drinks in the bar, you can retire for a night's rest. Day 2: Breakfast will be served at 07:00. You then transfer to the put-in point where the guides will get you fishing on the way to the first overnight camp at Elandsbay. By the time you arrive, your camp is pitched so all you need to do is relax. Day 3: The camp moves downstream, we will be fishing big waters with lots of structure toward our next camp Day 4: One of the best nymphing rapids on the Orange! We sleep here a second night Day 5: Dragon Hunters hold onto your 17 lb tippet! The lucky few who have been here describe it as the best River Dragon water on the Orange! We sleep at Leopards Leap Camp, and hopefully all boats will come in with the "Dragon" flag hoisted. Day 6: After breakfast we will attack the last stretch of this epic piece of the Orange river, getting out and being transferred to Plato Private Camp for a late lunch. After a dust-off and shower, we meet up at the bar for final celebrations and a great Northern Cape dinner. Day 7: Breakfast and Departure. Longer, bespoke packages on request.
Availability
Check dates with the Operator
We recommend checking dates with the Outfitter before booking your trip.
Terms
Trip Includes
Meals
Accommodation and meals at Plato Lodge, full fly camp facilities and excellent campfire cooking.
Guiding
Fully serviced camp with camp beds and mattresses for five nights. Three meals per day.
Transportation
Transport from Uppington to Plato Lodge, price on request and dependent on numbers.
Fishing license
---
Trip does NOT Include
You may want to bring your own sleeping bag or this can be provided on request.
Tips
Beverages
Alcoholic beverages, cold drinks and bottled water are excluded, these can be pre-ordered and paid for on arrival.
Pick-up service
Fishing gear
---
Policies
Catch & release
These fish are protected by law so it is 100% catch and release.
---
Cancellation
Deposit non-refundable.
Balance is required 12 weeks before arrival Charter flight fees payable on invoice. Cancellation Policy: 1) Cancelled by client more than 6 months before the start date of the trip: all monies less US$500 in favour of Tangla Tours will be refunded to the client. 2) Cancelled by client less than 90 days before start date of trip: all or any deposit will be lost in favour of Tangla Tours. 3) Cancelled by client between 6 months and 90 days before the start date of the trip: the deposit will be held by Tangla Tours for an alternative trip to be taken by the client at a later date. In these circumstances, if the rescheduled trip date falls more than 6 months from the date of cancellation, the trip will be charged at the new seasons rates. We reserve the right to deduct a rearrangement fee of no more than US$500. 4) Tangla Tours cancels a trip for any reason at whatever time then the client will receive a full refund of all monies paid. In such circumstances the client accepts that the return of the deposit will affect full and final settlement. 5) Notification of cancellations should be made in writing. Verbal notification cannot be accepted. Emails are accepted by us and in law (UK). 6) Please also read Tangla Tours as Jason Rodd should this be appropriate for the purposes of payments, deductions or refunds.
Fishing
---
Types of Fishing
River fishing
Quite simply the most beautiful stretches of the Orange river which forms the border of Namibia and South Africa in this area..
Backcountry fishing
Extremely remote and beautiful location. Super comfortable fly camping all set up each day by our great staff.
---
Fishing Techniques
Drift fishing
Fly fishing
Probably the best Small and Largemouth Yellowfish fly fishing in Southern Africa!
Spinning
Lure fishermen welcome!
Trolling
A very small amount of trolling possible on the larger lagoons, this can produce some very big fish!
---
Gear
Boat
Flies are made and available from your guide if required.
Boat Specs
Making a plan for the next section
Jason and guest angler Dr Allan discuss tactics for the assault on the next set of rapids.
Guest angler next to his boat
Action packed fishing!
Operator
Outfitter
Operator since 2000
I have been fishing for well over 4 decades and have been travelling abroad in pursuit of the greatest fish in fantastic locations for over 25 years. My passion is sharing these discoveries with like minded passionate souls.
Jason Rodd
Outfitter
Operator since 2000
How to get there
Northern Cape, South Africa
Detailed information will be given on booking. Closest domestic airport Uppington South Africa.
Book with 50% deposit
Once the fishing guide confirms your trip, your credit card will be charged with a 50% deposit to guarantee the reservation.
Pay remaining balance to the outfitter
The remaining balance will be paid directly to the fishing guide up to 12 days before the trip. The following payment methods are available: