Orange River Yellowfish Safari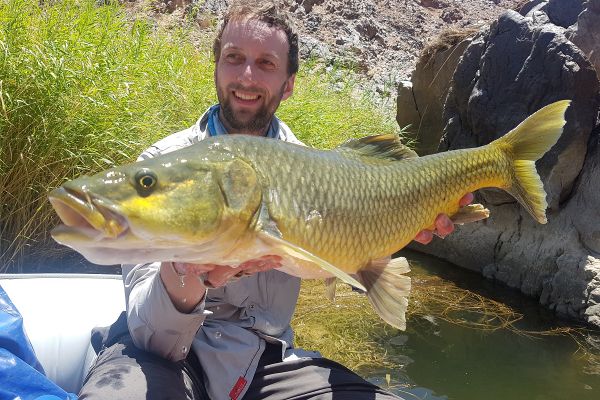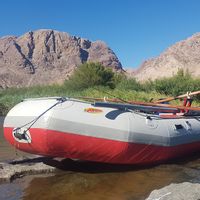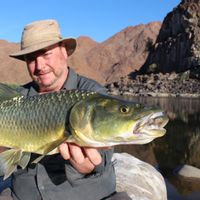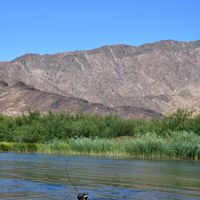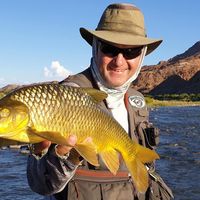 + 4
An Action Packed Fishing Adventure! We will be fishing +/- 22 km upstream from Plato Lodge, launching from Blaauputz. From the launch spot the river turns away from all agricultural activity and is mostly not accessible by car. There is no local fishing. The river structure varies significantly over this 22 km stretch. From rapids filled with huge Smallmouth Yellows to deep pools with great structure, ensuring a real chance at a trophy Largemouth Yellow or as we like to call these monsters, The Orange River Dragons. The Fishing day This trip is unusual in that you can, indeed we encourage you to, fish as much as you want to! We drift-fish and move downstream in spacious inflatable boats, designed by ourselves to provide day long fishing in comfort looking for great spots; when we find one, we fish from the boat and at other times we decamp onto the shore. In the evenings we tend to fish close to camp. We will provide three meals a day. Campfire cooking, as good as it gets! Your guides have fished competitively at international levels and know this area of the Orange river extremely well. Simply stated, you cannot be in better hands! Day 1: Arrival at Plato Lodge from 14:00. Book in. You will have the opportunity to do a quick afternoon session a few minute's drive down the road on Plato's private stretch of Orange river. On registration you will be issued with Hunter Fisher dry bags to safely store your personal belongings. After a great Northern Cape dinner and a few drinks in the bar, you can retire for a night's rest to get ready for five days on the water. Day 2: Breakfast will be served at 07:00. You then transfer to the put-in point where the Hunter Fisher guides await to get you fishing on the way to the first overnight camp at Elandsbay. By the time you arrive, your camp is pitched and a cold one is ready to celebrate your catch. Day 3: The camp moves downstream, we will be fishing big waters with lots of structure toward our next camp Day 4: One of the b...
Availability
Terms
Trip Includes
Meals
Accommodation and meals at Plato Lodge.
Guiding
Fully serviced camp with camp beds and mattresses for five nights. Three meals per day.
Transportation
---
Trip does NOT Include
Pick-up service
Beverages
Alcoholic beverages, cold drinks and bottled water are excluded, these can be pre-ordered and paid for on arrival.
Tips
Bedding
Fishing gear
---
---
Cancellation
Deposit non-refundable.
Balance is required 12 weeks before arrival Charter flight fees payable on invoice. Cancellation Policy: 1) Cancelled by client more than 6 months before the start date of the trip: all monies less £500 in favour of Tangla Tours will be refunded to the client. 2) Cancelled by client less than 90 days before start date of trip: all or any deposit will be lost in favour of Tangla Tours. 3) Cancelled by client between 6 months and 90 days before the start date of the trip: the deposit will be held by Tangla Tours for an alternative trip to be taken by the client at a later date. In these circumstances, if the rescheduled trip date falls more than 6 months from the date of cancellation, the trip will be charged at the new seasons rates. We reserve the right to deduct a rearrangement fee of no more than £500. 4) Tangla Tours cancels a trip for any reason at whatever time then the client will receive a full refund of all monies paid. In such circumstances the client accepts that the return of the deposit will affect full and final settlement. 5) Notification of cancellations should be made in writing. Verbal notification cannot be accepted. Emails are accepted by us and in law (UK). 6) Please also read Tangla Tours as Jason Rodd should this be appropriate for the purposes of payments, deductions or refunds.
Fishing
Operator
Outfitter
Since 2000 year
Bait it... Place it... And wait... Fishing in Africa at its finest.
Jason Rodd
Outfitter
Since 2000 year
How to get there
North Carolina, South Africa
Book with 50% deposit
Once the fishing guide confirms your trip, your credit card will be charged with a 50% deposit to guarantee the reservation.
Pay remaining balance to the outfitter
The remaining balance will be paid directly to the fishing guide up to 30 days before the trip. The following payment methods are available: