Giant Sea Brown Trout - Rio Grande - Argentina - San Jose Lodge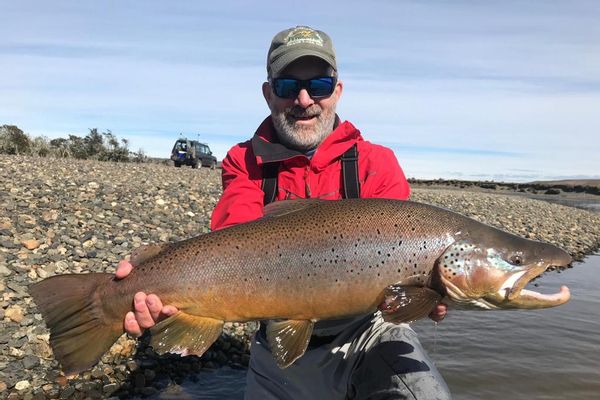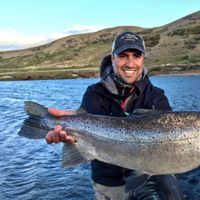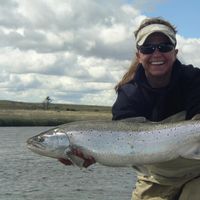 + 29
There are simply no words to describe the feeling of catching a 20+ pound sea run brown trout while standing at the end of the world!. Skating streamers, nymphs or even dry flies into these San Jose pools are all possible ways to experience a violent fight with a monster Brown. Estancia San Jose is located in the heart of Tierra del Fuego, and home to some of the best pools of the famous Rio Grande River where we fish for the largest brown trout on Planet. Owned by billionaire Ted Turner this estancia has become one of Mr. Turner and his family's favorite fly fishing destinations. The lodge was designed to offer maximum comfort to host our guests during the fishing season. There are 5 double rooms with private bathrooms that can accommodate a maximum of 10 guests, however the Estancia is only permitted to have up to 6 rods fishing the river at once. Because of this we limit occupancy to a maximum of 4 anglers and 4 non anglers making a total of 8 guests giving our guest a more personal and homey atmosphere in the lodge. www.sanjosesearunlodge.com
Availability
Terms
Trip Includes
Beverages
Guiding
Laundry
Meals
Pick-up service
Transportation
---
Trip does NOT Include
Fishing license
$150 subject to change
---
---
Cancellation
Deposit non-refundable.
Traveler Outdoors requires a 40% deposit to secure a reservation. The remaining balance is due no later than 60 days before the scheduled trip. The acceptable payment options are wire transfer, check, money order. All prices are in US Dollars, and all deposits and payments must be in US Dollars. The deposit and remaining balance are non-refundable unless a paid replacement is provided for the person cancelling. Full payment is required for trips planned less than 60 days before the scheduled trip date. Traveler Outdoors reserves the right to change the venue/s booked with deposit in this itinerary due to factors out of our control such as, such as acts of God, war, serious illness, threats and/or acts of terrorism, civil disturbances, inclement weather, flight cancellations, flight delays, denied entry into the country, lost luggage and equipment. In said unforeseen event, Traveler Outdoors will accommodate guests in a venue of equal quality lodging, service and shooting/fishing at no additional cost to group. Please note if client does not accept the "change of venue" option, that any payments made to Traveler Outdoors are non refundable and may not be credited to another person or for a future trip. Traveler Outdoors reserves the right to stop hunting at any time during the trip if unsafe firearm and shooting practices occur. Traveler Outdoors will not be held liable for hunting stoppage. Traveler Outdoors is not liable for lost, stolen and/or damaged personal belongings including firearms, hunting equipment and personal items, whether the loss occur due to airlines, airports or ground transportation or at the lodge. Traveler Outdoors is not liable for any sickness, injury or death regardless and how and where the event took place during the trip. Travelers are encouraged to act safely and responsibly at all times. Receipt of deposit and/or final payment by Traveler Outdoors is acknowledgement that registrant has read and accepts the above stated booking conditions and cancellation/refund policy. Please notify us by email (info@travelleroutdoors) upon completion of any and all deposits or wire transfers. Please include all pertinent transaction information. We certainly look forward to hosting your trip.
Fishing
---
---
Fishing Techniques
Fly fishing
Regular and Spey Casting
---
Accommodation
Double Room - With private bathroom
Distance to fishing area:
25 minutes
Single Room - With private bathroom
Distance to fishing area:
25 minutes
Operator
Outfitter
Since 2014 year
We are an Argentine base hunting and fishing outfitter owned and operated by American/Argentine partners. We Outfit High Volume Dove, Duck, Pigeon and Perdiz hunting programs in Buenos Aires and Entre Rios, 100% free range Red Stag hunting in Northern and Fishing programs in Northern Patagonia and South (Rio Grande – Tierra del Fuego).
Junior Deane
Outfitter
Since 2014 year
How to get there
Radman, Tierra del Fuego, Argentina
From the US, there are direct flights from Atlanta, New York, Houston, Miami, Dallas and Atlanta to Buenos Aires, Argentina. From Europe there are direct flights from London, Paris, Amsterdam, Madrid, Rome and Frankfurt, to Buenos Aires too. (EZE - Ezeiza International Airport). All these flights usually arrive at Ezeiza International Airport (EZE) early in the morning. Transfer to a Buenos Aires Hotel (40 minutes drive). We suggest Touring in buenos Aires during the day. Overnight accommodations in a Hotel. Flight from Buenos Aires Domestic Airport to Rio Early transfer to the Domestic Airport (approximately 25 minutes drive) Flight: 2.50 hrs flight to Rio Grande Airport (RGA). Transfer to the Lodge, 1 hour drive
Book with 40% deposit
Once the lodge confirms your trip, your credit card will be charged with a 40% deposit to guarantee the reservation.
Pay remaining balance to the outfitter
The remaining balance will be paid directly to the lodge on the trip date. The following payment methods are available: