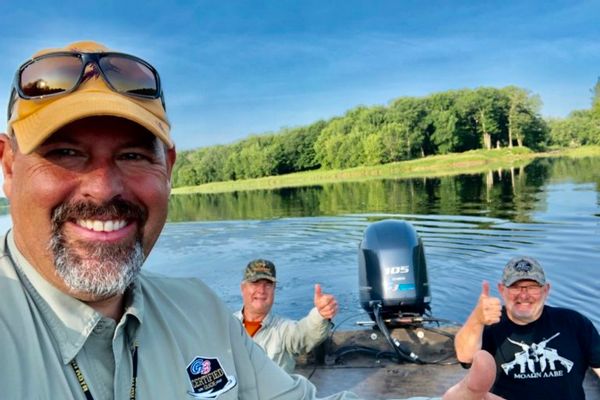 + 6
Open Water Fishing Trips in Maine- Our trips are based priced for 1 or 2 people. Add up to 3 people to any of our fishing adventures for $50.00 per person. Children 12 and under are free of charge. *Only one child per adult ratio allowed on any Twin Maple Outdoor trip. All safety gear, fishing gear, flies and lures are supplied as needed. We provide lunch and refreshments so make sure you specify your meal preferences and dietary requirements in the registration. Any medications, eyeglasses or special needs should be supplied to your guide as redundancy for the trip. If a wheelchair is needed on a trip, we will accommodate anyone and encourage disabled fisherman to come! Fishing licenses are required and NOT included in pricing. All fishermen need to purchase their license on their own for the appropriate days of fishing. Personal effects are also not supplied. If your party has a special requirement you may inquire and we will do our best to accommodate you. Please note* Left behind items can be mailed back to you at your expense
Availability
Check dates with the Operator
We recommend checking dates with the Outfitter before booking your trip.
Terms
Trip Includes
Beverages
Float plane service
Guiding
Housekeeping
Meals
---
Trip does NOT Include
Fishing license
Laundry
Tips
Transportation
---
Policies
You keep catch
Catch & release
---
Cancellation
Free cancellation (90 days in advance).
Cancellations made at least 90 days to the scheduled stay or trip date will receive a full refund. Cancellations made 89 -45 days prior to the scheduled trip date will forfeit 50% of the deposit. Cancellations made 14 days or less prior to the scheduled trip date or no shows will forfeit the entire deposit and will be held responsible for complete remaining balance of trip cost. In some cases, we will be able to reschedule the trip on an alternate date that is mutually available. In these cases, a 15% re-booking fee will be charged. We only allow people of good repute to participate in lodging and any of our services. People found in breach of our rules or policy stated in our web site or registration may lose all funds and may be responsible for any balances. Any /All participants are subject to background check. In addition, we reserve the right to reschedule or cancel a trip based on our discretion.
Fishing
Species
Smallmouth Bass
Largemouth Bass
Landlocked Salmon
Lake Trout
Brook Trout
Whitefish (Lake)
Northern Pike
Muskellunge (Musky)
---
Types of Fishing
River fishing
Backcountry fishing
Lake fishing
---
Fishing Techniques
Drift fishing
Fly fishing
Ice fishing
Light tackle
Spinning
Trolling
---
Gear
Bait
Boat
Fish finder
Fishing Pole
Lure
Rod holders
Rods & Reels
Tackle box
Trolling motor
Boat Specs
G3 Jet Boat
Since the very beginning of Twin Maple Outdoors, we have embraced the very essence of the G3 Life. We have made this company and product the very heart that drives us to success. Our customers know exactly what we mean when we say "World Class". When it comes to trust, performance, and satisfaction, our G3 is absolutely second to none. Superior equipment coupled with good old fashion customer service is why folks come back to Twin Maple Outdoors every year! "In 2017 we have been blessed and honored to join the ranks at G3 as a "Certified Guide". We utilize our G3 Jet boat in all aspects of our guiding services such as fishing, hunting and recreation in the State of Maine. Whether we are on a Moose Safari or a Penobscot River Smallmouth Bass Adventure, our G3 boat gets us there and back! If you want to go where most folks fear to tread, then come along with us to experience Adventure, Remoteness and just plain FUN!"
Operator
Outfitter
Operator since 2013
How Rich got his start… Rich grew up hunting, fishing, and camping all over the United States as well as his own back yard. He first learned to fish with his Dad, Norman in a 12′ aluminum boat. Spending time on the Lakes in Maine with His Uncle Rodney (Master Maine Guide), and down to Florida on the St John River with His Uncle Walter Young (Florida Park Ranger Superintendent), these special people and places started an Example and Love of the Outdoors that has carried throughout His Life to Present Day. Rich is a Christian and believes in being self-sufficient and providing for his family from the field to table surviving from all that our Natural World offers. Genesis 27:3 Now therefore take, I pray thee, thy weapons, thy quiver, and thy bow, and go out to the field, and take me some venison Having frequent summer trips to Florida, Rich spent time monitoring Manatees with Radio Tracking transmitters, Bass Fishing, and monitoring park activity with his Uncle Walter. Blue Spring Park, St John River, Hontoon Island, Manatee Springs are some of the special places he had spent most summers exploring and learning from his mentor, Walter Young. Starting as early as 8 years old on Ambajejus Lake, Rich spent summer days perch fishing and evenings fly fishing at Nesowadnehunk Lake with his Uncle Rodney. When fall arrived, accompanying his Uncle in Trapping, Hunting Partridge and Deer was enjoyed in Maine's Back Wilderness. A family past time started his Love and Passion for Maine's unspoiled Wilderness. Learning Maine's Woods, Lakes, Remote Ponds, Rivers, and Streams became an obsession that brought him to follow his dream of becoming a Registered Maine Guide. Today… Combining his Love and Passion of the Outdoors, Customer Service and Teaching, anyone sharing an Outdoor adventure with Rich will have a trip of a Lifetime. Rich provides World Class trips and Lodging with support from some of the worlds best and foremost outdoor manufacturers.
Rich Yvon
Outfitter
Operator since 2013
How to get there
Bradford, Maine, United States
Book with 50% deposit
Once the fishing guide confirms your trip, your credit card will be charged with a 50% deposit to guarantee the reservation.
Pay remaining balance to the outfitter
The remaining balance will be paid directly to the fishing guide on the trip date. The following payment methods are available: