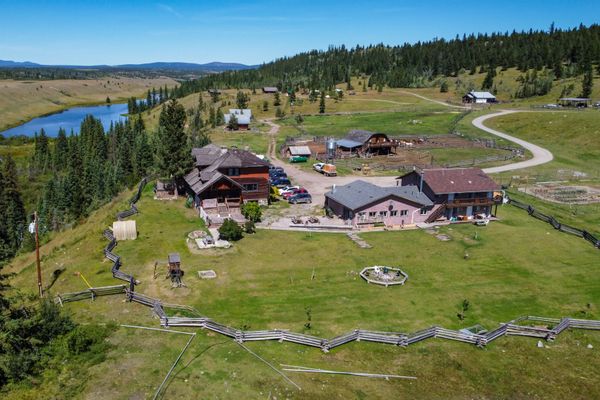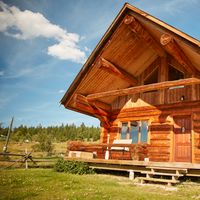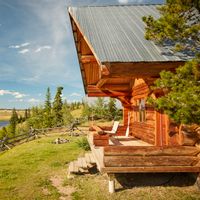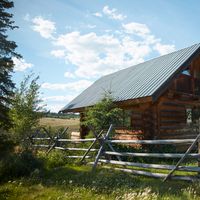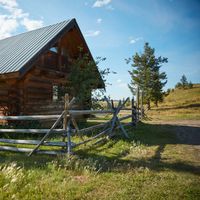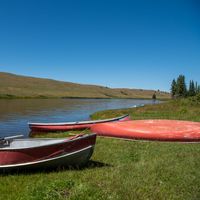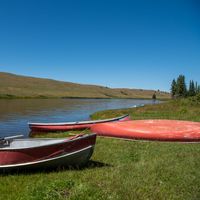 + 53
These spacious private cabins feature three bedrooms, a full bathroom with a tub and full kitchen facilities. Each cabin has a beautiful view over looking the valley and our private lake. Watch the sunset from your private porch while the bald eagles sore before you in their hunt for fish below. Set closest to all the action and the main ranch building these are our most popular units.
Availability
Check dates with the Operator
We recommend checking dates with the Manager before booking your trip.
Terms
---
Policies
No Spring Closure in Big Bar Creek
You keep catch
Single Barbless Hooks Only
---
Cancellation
Free cancellation (30 days in advance).
We require a 50% deposit on accommodations booked to secure your reservation. Final payment is required 14 days prior to the arrival date. Date changes are guaranteed penalty-free with 30 days notice. All deposits and final payments are non-refundable at 30 days to your trip, but in the event of cancellation we will issue a Letter of Credit for the full value of the deposit, good for 14 months from the date of the original booking. Letters of Credit are valid any time but may be subject to restrictions during peak periods. (weekends and high season) Letters of credit may not be applied to pre-existing bookings. Applicable taxes and any additional purchases such as activities and/or meals will be due upon departure. All attending guests will be required to sign a waiver upon arrival on the property.
Fishing
Species
Rainbow Trout
Cutthroat Trout
Lake Trout
---
Types of Fishing
Backcountry fishing
Lake fishing
---
Fishing Techniques
Popping
Trolling
Ice fishing
Drift fishing
Fly fishing
Spinning
Light tackle
---
Boat Specs
Canoe/Rowboat/Paddle Boat
There are canoes, a rowboat and paddle boats available for use at our lake free with your accommodation!
Accommodation
Large Lakeview Cabin 1
Distance to fishing area:
Very short
Large Lakeview Cabin 2
Distance to fishing area:
Very short
Small Lakeview Cabin 3
Distance to fishing area:
Very short
Small Lakeview Cabin 4
Distance to fishing area:
Very short
Operator
Manager
Operator since 1936
Big Bar Guest Ranch is proudly owned by Stswecem'c Xgat'tem First Nation (SXFN), a community located in a semi-remote area on the the Fraser River, approximately 85 kilometers southwest of Williams Lake. Once two distinct bands, Canoe Creek (Stswecem'c) and Dog Creek (Xgat'tem), our two Secwepemc communities joined together in the late 1800s. We honour our separate histories and our coming together. In the 1860s, more than 10,000 people traversed the Caribou Wagon Roadin search of a new life, land to raise cattle, or a gold strike. Harry Marriott, an immigrant from England, started working for the notorious Gang Ranch, one the largest ranch in Canada. Marriot acquired smaller ranches and land parcels, eventually consolidating them into the O.K Ranching Company, with access over 200,000 acres of cattle country and wilderness. Marriott partnered with his friend and Vancouver banker, George S Harrison and sectioned off 100 acres of their mutual land acquisition for his personal use. This was the beginning of Big Bar Guest Ranch. Much is unchanged since the Harrison family used Big Bar Ranch as their family retreat. The original family home, "The Harrison House", built in 1936 with logs and stone hewn and selected from the property, continues to provide a cozy retreat for guests on holiday relaxing in the great room in front of the fire place, or playing a cowboy song on the guitar in the music room. Big Bar guests have access to the original acreage of the OK Cattle Company, and can venture out across unspoiled pasture lands and forests. What has changed is that Big Bar Guest Ranch is now a part of our shared community vision of becoming an economically and politically self-sustaining community living Secwepemc culture, language, and traditions in a healthy and safe environment. Stswecem'c Xgat'tem First Nation invites you to Big Bar Guest Ranch to experience the dramatic landscape of traditional SXFN Territory: interlocking valleys and plateaus, situated between bold and snow topped mountain ranges. It is our honour to share history as the original inhabitants of this land and welcome you to life on the ranch. If you are looking for a peaceful fishing trip, look no further. Big Bar Ranch has our own fishing lake where you can use one of our canoes for free. We are also surrounded by at least 3 other fishing locations within a 30 minute drive, two of these options are suitable to bring your own fishing boat.
Jenna McKague
Manager
Operator since 1936
How to get there
Gang Ranch, British Columbia, Canada
Enter on Big Bar Road just north of Clinton, BC. After driving 55km down a well maintained dirt-road suitable for SUVs and small cars, take a left into our driveway where you will see a "Big Bar Guest Ranch" sign.
Book with 50% deposit
Once the lodge confirms your trip, your credit card will be charged with a 50% deposit to guarantee the reservation.
Pay remaining balance to the manager
The remaining balance will be paid directly to the lodge up to 14 days before the trip. The following payment methods are available: