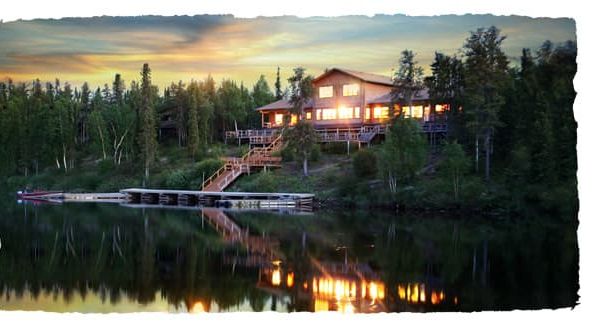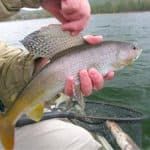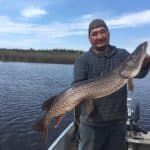 + 21
Home to the Best Fishing in Canada NORTHERN PIKE, LAKE TROUT, WALLEYE, ARCTIC GRAYLING—THERE'S NO BETTER CANADA FISHING VACATION. Searching for a monster fish factory? You're in the right place. When it comes to memorable, all-inclusive fishing trips in Canada, anglers looking for a world-class fishing experience start their planning here! It makes sense. Big Sand Lake Lodge offers premiere, complete Canadian fly-in fishing with a comfortable main lodge. Because we've practiced catch-and-release conservation for more than 30 years, the fish grow to enormous sizes. So big that it's possible to earn your Manitoba Master Angler Certificate during any cast. You choose what you want, and nature supplies the action: Northern Pike, Lake Trout, Walleye, and Arctic Grayling. Plus, we treat you right with a classic shore lunch cooked over an open fire on real wood, not propane. As big as the fish are, sometimes it's the little things that mean so much. Go for the legendary Canadian Fishing Grand Slam … all four fish species during one trip to Northern Manitoba. Achieve that, and you'll earn a $500 voucher toward a future Big Sand Lake Lodge visit. THE QUINTESSENTIAL CANADA EXPERIENCE FOR BIG SAND LAKE LODGE GUESTS. Yep, our lodge is the only one on the lake. And, it's all yours. Our expert guides understand exactly what is happening on the water at any given moment. And, our staff knows everything you need for THE Canada fishing trip that beats all other Canada fishing trips. Great fishing. Delicious food. Comfy lodging. Friendly staff. Up here, there's less traffic and more fish! When it comes to remote fishing trips in Canada, Big Sand Lake Lodge is as close to a sure thing as you can get. Discover what else sets us apart!
Availability
Check dates with the Operator
We recommend checking dates with the Outfitter before booking your trip.
Terms
Trip Includes
Meals
Laundry
Housekeeping
Guiding
Beverages
Only with prior notification. Additional charges may apply. Alcoholic beverages not included but can be purchased in advance.
---
Trip does NOT Include
Transportation
Pick-up service
Tips
Fishing license
Purchase online from E-License Manitoba
Float plane service
To Outposts if available.
---
Policies
Catch & release
Barbless Hooks
---
Cancellation
Deposit non-refundable.
CANCELLATION POLICY For cancellations received in writing 91 days prior to departure date, the trip will be credited to the following year. Cancellations received 90 days or less prior to scheduled arrival will not be credited or refunded. DEPOSITS A deposit of 25% per person for Fishing Trips is required to secure reservation. The Trip balance is due, less deposit, April 30 OR 90 days prior to departure date. Deposits are not refundable. Trip Cancellation insurance is recommended but Optional. All overdue accounts subject to 2.5% late fee.
Fishing
Species
Walleye
Northern Pike
Lake Trout
Grayling
---
Types of Fishing
River fishing
Backcountry fishing
Lake fishing
Nearshore fishing
Offshore fishing
Reef fishing
---
Fishing Techniques
Light tackle
Drift fishing
Jigging
Popping
Trolling
Spinning
Fly fishing
---
Gear
Rod holders
Fishing chair
Fishing Pole
Lure
Fish finder
Boat
Rods & Reels
Boat Specs
Alumarine 18
Alumarine 18 foot, 40hp Yamaha 4 Stroke, Captain chairs, Depth Sounder, Guides.
Accommodation
Main Lodge with 7 Log Cabins
Distance to fishing area:
100 Feet
Operator
Outfitter
Operator since 1989
Big Sand Lake Lodge is committed to providing the hunting and fishing experience of a lifetime for everyone. With the support of the community and their life long experience and dedication we share the wisdom passed down through the ages to all.
Big Sand Lake Lodge
Outfitter
Operator since 1989
How to get there
South Indian Lake, Manitoba, Canada
There are no roads leading to Big Sand, so the only way to get here is to fly in. All guests arrive at Big Sand Lake Lodge via turbo prop passenger aircraft from Winnipeg, Manitoba landing at our private airstrip. Situated high atop an ancient glacial esker, the main lodge was built with the guests' needs foremost in mind.
Book with 25% deposit
Once the lodge confirms your trip, your credit card will be charged with a 25% deposit to guarantee the reservation.
Pay remaining balance to the outfitter
The remaining balance will be paid directly to the lodge up to 12 days before the trip. The following payment methods are available: