Reel Alaska Fishing Charters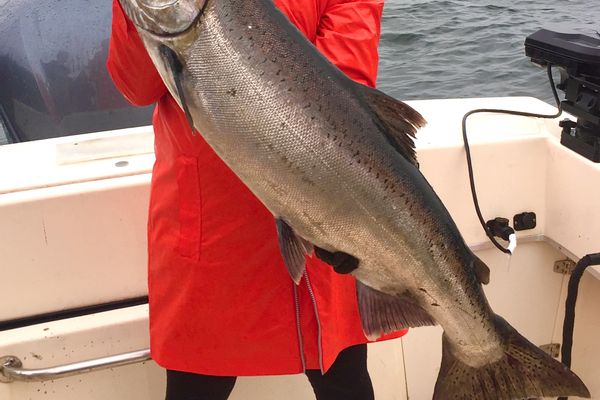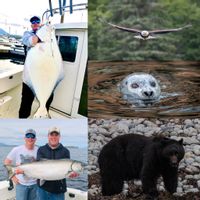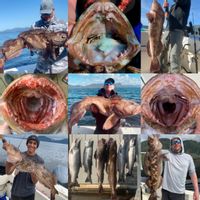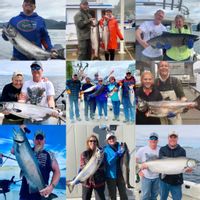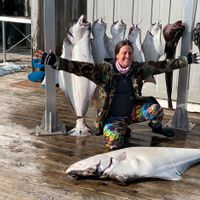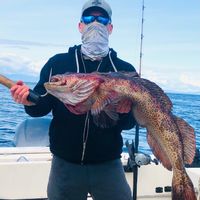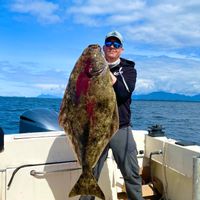 + 14
When you're looking for your own Alaskan adventure vacation, it would be remiss not to book a trip with Reel Alaska Fishing Charters. Captain Scott has fished all over the US and came back to Alaska a few years ago to run charters here. He has so much experience to share and loves to swap travel stories with his customers. He will make sure every person on board has an awesome time. We can accommodate up to 6 clients per vessel with three vessels in our stable without getting creative. The day will be spent on a 30'-35' boat that has plenty of room for 6 anglers to fish from. There is a private restroom for your comfort. The boat offers a stable ride, warm interior and plenty of space on deck to reel in some big beauties. Bring your closest friends and family as we take you past the other local fishing fleets for a true Alaskan adventure. The stars of the show here are the Chinook Salmon and Halibut. You'll also target Lingcod and Rockfish. Salmon here get big, definitely big enough to change your profile picture to feature you holding one! They also offer crabbing or shrimping for those interested. This is the trip you're looking for, and Reel Alaska Fishing Charters will be responsible for your future love affair with Alaska! Included in the price of the trip are the top quality rods & reels from Shimano, gear from Gibbs Delta and premium bait. You can still come fishing or whale watching even if you're coming into Alaska on a cruise. Reel Alaska Fishing Charters offer flexible start times with his trips and will have you back at the port ready to head out with time to spare. You'll need to buy and print a fishing license before you board. Let the captain know if you want to spearfish on your trip. This can only be done on private trips and for a maximum of 6 people. Fly fishing can also be arranged for 4 people. For an unrivaled fishing trip to secret fishing spots, book a trip with Reel Alaska Fishing Charters today.
Availability
Check dates with the Operator
We recommend checking dates with the Outfitter before booking your trip.
Terms
---
Trip does NOT Include
Fishing license
Purchased online from the state of Alaska website, must be printed out and carried on your person- King salmon stamp required for any attempt towards catch and release or retention..
Tips
Laundry
Housekeeping
Float plane service
No float plane required to visit Ketchikan, however on a back country, fly in freshwater fishing trip-they are utilized.
Fish Processing: $2.25 a pound for finished wieght.
Fishing
Species
Chinook Salmon
Brown Trout
Steelhead trout
Cutthroat Trout
Rainbow Trout
Shark
Cod
Flounder
Sockeye Salmon
Pink Salmon
Coho Salmon
Rockfish
Lingcod
Halibut
Chum Salmon
---
Types of Fishing
Backcountry fishing
Lake fishing
Offshore fishing
River fishing
---
Fishing Techniques
Spearfishing
Spinning
Trolling
Light tackle
Jigging
Fly fishing
Bring your own rods
Drift fishing
Deep sea fishing
Bottom fishing
Heavy tackle
---
Gear
Trolling motor
Tackle box
Speargun
Rod holders
Rods & Reels
Boat
Fishing Pole
Fish finder
Downriggers
Bait
Lure
Boat Specs
Offshore boat
Offshore boat (North River) originally built in 2021 restored in 2022 . Powered by 2 engines (250HP, Yamaha), with a maximum cruising speed of 45 knots.
Services And Facilities
Downriggers
Fishfinder
GPS
Icebox
Trolling rods
Toilet
Three walls and a door, proper toilet seat and privacy- no porta potty, bucket nonsense.
Refrigerator
Reels
Life Jacket
Heater
Premium Bait for Halibut Fishing
Operator
Outfitter
Operator since 2018
It all started back in 1980… My father Fred Edgar is on his way to Alaska and my mother surprises him with the good news, he is about to become a father again, at the age of 50. As a Korean war vet on disability, he wasn't able to afford the nicest or newest things for us. He did his best and made sure we were raised right and taught us to be respectful of our natural resources while practicing foraging, hunting and fishing to provide for the family. After years of fishing next to my father's side all over the Pacific Northwest, he passed due to complications during his fight with cancer just as I was becoming an adult. I found myself searching for peace and headed south, fishing every river, stream and diving off the coast till I ran out of new places to explore in Washingon, Oregon and California. Shortly after it was several years in the Florida Keys out of Key West, then two years in Louisiana and a couple more in Fort Myers/Naples. After much exploring and soul searching an opportunity to come back to Alaska for a summer season was offered to me working as an operator for a vessel/charter owner. After a terrible season was cut short due to mechanical failure, an unsafe vessel and an owner who didn't pay much care about his clients, I didn't give up. I became motivated more than ever with my passion for fishing and my business knowledge I built Reel Alaska Fishing Charters from the ground up. That winter we took the time to find our own hull and re-power it with brand new Yamaha outboards, lease the appropriate permits and start our own charter business with nothing but a facebook account. Through my charter experience I would provide a reliable, safe, dependable, fast, vessel for our clients. Vetted and endorsed by the International Game Fish Association for our knowledge and ethical practices, we are one of just a few in the entire state of Alaska. My goal was to provide all of our clients both young and elderly, unexperienced and avid anglers an experience of a lifetime and make memories for years to come. Unfortunately even after all of our efforts Covid-19 impacted all of Southeast Alaska in a negative way that no one saw coming nor could prepare for. Going into our 2nd year of business, as of February 2020 we already had 63 of the 120 total maximum reservations in place to secure a successful season as 80 would have been sufficient. As Covid-19 became more of a threat to our families across the world the cancellations kept coming and refunds were delivered until almost every booking was dwindled away. Unwilling to quit or give up we did everything we could to try and provide for our family, with under 30 trips for the season in 2020, and most of them at a discount we would have been better off to just claim full time unemployment as others had but we didn't want to give up all hope. We have not received any help from CARES, PPP, or EIDL and have been trying to make ends meet the bet we can. This year in 2021 we find ourselves with the equipment, vessel, and most importantly the ability and location to provide families those true, life long, bucket-list, adventures. But unfortunately not the funds to continue to pay off our loans, advertise, housing, upkeep and maintenance, and fuel. This is a heartfelt message from our hearts as we are not accustomed to asking for help but we need it to survive at this point. Book a trip, tell your friends, like us on facebook or instagram, anything helps. Here is to praying for a better 2021. Giant Fishes and Best Wishes, Reel Alaska Fishing Charters
SCOTT EDGAR
Outfitter
Operator since 2018
How to get there
Ketchikan, Alaska, United States
Call and we will meet you at the dock.
Book with 20% deposit
Once the charter confirms your trip, your credit card will be charged with a 20% deposit to guarantee the reservation.
Pay remaining balance to the outfitter
The remaining balance will be paid directly to the charter on the trip date. The following payment methods are available: